LATEST NEWS - July 22th 2005
The show with Michael McNeil's interview is online!
Mick also pleased me to publish his website, where you are
able to see and hear to his latest projects. You are also
able to write posts to his "message board".
MIXRECORDS.COM
You are able to download the MP3-file here.
NOTICE:
due to the duration of 55 minutes, the MP3's filesize
is about 50.0 MBytes!
---
NEWS - June 27th 2005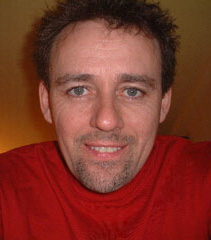 I guess, you all know Michael McNeil from his long time appeariance as founding member of Simple Minds, songwriter and keyboarder.

Some of the most successfully albums, he worked to gether with Simple Minds are Sparkle in the Rain, New Gold Dream and Street Fighting Years. Only to name a few...

After being able to phone Michael McNeil, I proudly present an interview with him on Radio Simple Minds.
Some of the subjects of the interview will be:
What is the backround of 'Gaelic Melody'?
What are the feelings to play in front of huge audiances?
you remember funny situations during a show?
do you like to work with Simple Minds together again?
Additional to this interview, I'll play some live and studio tracks of Mick's
Simple Minds epoch, like "Book of Brilliant Things", "Mandela Day" and
many more.
The broadcasting will be on:
saturday, july 9th 2005
16:00 dutch time
Radio Simple Minds
---
may 2005 Kees (DJ Burning) and Marina (icequeen555), the owners
and producers of Radio Simple Minds are searching for
Simple Minds community* members, making their own
shows. They want to make their idea more interesting for
you, the listeners.
DJ Burning already produces together with icequeen555 a
Request Show for one hour nearby every weekend.
I am supporting the idea and so I'm going to start a new
show called "in concert", playing live tracks and bootlegs
from the founding time of Simple Minds up to the
present.
---
Meeting up - february, 17th 2006 Marina, Kees and Alex had a meeting up on february, 17th 2006 in
Limburg/Lahn, germany. We had big fun and a great time, even for
only a few hours. Here are some of the photos we took of ourselfs.
Maybe these pictures transmits the spirit of our meeting.
I hope to meet you soon again, dear Kees & Marina!
---