Simple Minds Community Sticker
---
LATEST NEWS 11/07/2004 I got a message today from Todd Richards,
moderator of "The Simple Minds Marathon", WBWC
"Hi Alex! Yes the sticker is now in -house! I 'm going
to give it away in the "grand prize" for the day (a copy
of every item in one bundle). The sticker looks fantastic
- everyone in WBWC was impressed not only how good it looks,
but also that it was created by members of the fanbase.
Thanks so much for thinking of us.
Best to you, Todd R."
---
NEWS 18/06/2004 WIN A FREE STICKER!
Win a free sticker on "some sweet day 2004",
the "Simple Minds Marathon 2004" at WBWC - the sting.
Click here to get further inforamtion of
some sweet day 2004.
---
NEWS 05/06/2004 RESPONSES
"The stickers are brilliant !!"
Sylviah
"Yes, they are very good Alex :o))"
pepper
"...the sticker is really, really great!!!!"
Saby
"Wow, quality looks prefect"
Dianissima
"Beautiful, high quality stuff"
Simple554
"It looks f**king brilliant"
erwinvaniren
"Good job!!!"
marylou
"they are AMAZING... really !!!!"
Anne-Marie
"YIPEEEEEEEEEEEEEEEEE!!!! received mine too and they are FANTASTIC ....WOW!"
hardat
"...they are brillant !!!"
Hazard
"I received my stickers and I am happy. I sticked them everywhere... "
manukal
---
NEWS 01/06/2004 The stickers has been sent to all of you, who have ordered and
paid up to may, 31st 2004.
PLEASE NOTICE:
in addition to your ordered stickers, I added a small sheet. You will
find your "user account" and "password" for uploading your images of
the stickers on my fansite "sticker gallery".
---
NEWS 29/05/2004 The stickers arrived today! Finally! They are really looking
very professional.
Now the final job for me is to fit the stickers to the coresponding
envelopes and postal send them to the people, who ordered and paid them.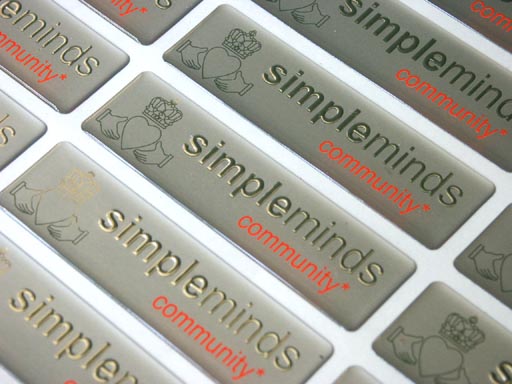 ---
NEWS 27/05/2004 I phoned the manufacturer of the stickers today. They told me, that they
will send them to me tomorrow. So it will arive to me on saturday or at
then beginning of next week.
In the meanwhile, I prepared the envelopes with the addresses and sorted
them in countries.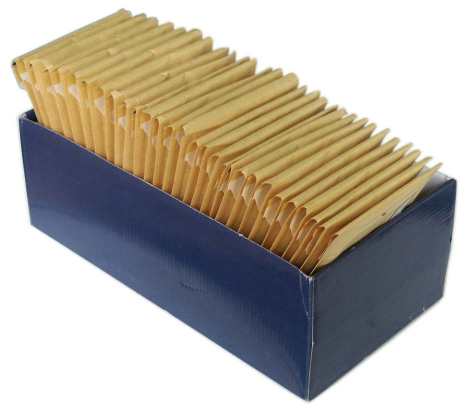 ---
NEWS 07/05/2004 After checking the pre-print today, I set the GO! for the manufacturing
of the sticker. So about 20 days up to the days, it's finished.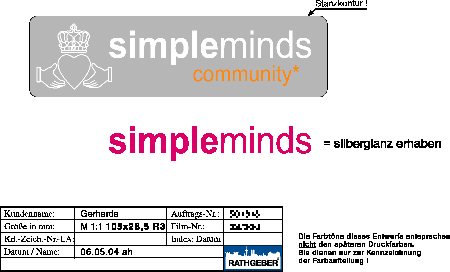 ---
NEWS 05/05/2004 I decided to number this sticker project. So each sticker
will get a serial number from #001 to #100.
As you already have seen, I decide to create a gallery, where
to see images of stickers and where they stick at. If you what
to be part of this gallery, send me your image and I'll add
it to the upcoming gallery.
---
NEWS 02/05/2004 The stickers got ordered in a quantity of 100 pieces!
Thanks to all, who have paid soooo fast.
And thanks in advance for trusting me!
A big thank you to Gordon and Sandra, who
splitted up the remaining stickers with me!
---
NEWS 01/05/2004 The sticker will get produced!
The difference up to 100 pieces will get splitted to some members, who are very
interrested in getting this sticker produced.
So - for all, who have ordered the sticker - you are getting a product, which is
official, of very high quality and limited to 100 pieces world-wide.
---
NEWS 30/04/2004 I got asked again, if it is a "simple black & white sticker".
It is NOT!
This sticker is of highest quality, printed at a - in parts glossy & matt - silver foil.
The words "simpleminds" are glossy and ebossed in addition. To protect the foil,
the cover is made of a high quality, UV-restistant plastic.
For further details, please visit the manufacturers homepage and search
for the keyword "ROYALPLAST".
Now here is the final design:

---
NEWS 28/04/2004 The pricing for the stickers is now offical. Please note, that we
have to order at minimum 100 stickers in sum.
For making better calculations, please pre-order your stickers here.
Questions? Please don't hesitate to contact me.
pricing for stickers
minimum 100 pieces in sum
> 100 pieces in sum
7.70 € each
> 130 pieces in sum
7.00 € each
> 150 pieces in sum
6.20 € each
> 200 pieces in sum
4.60 € each
> 250 pieces in sum
4.00 € each
pre-ordered up to now
100
actual pricing
7.70 € each
Deadline for your pre-ordering is may, 1st 2004.
sample calculations
worst case
quantity
3
23.10 €
5
38.50 €
p&p to...
begium
5.00 €
USA
9.00 €
balance
28.70 €
48.50 €
---
NEWS 04/03/2004 There are no news up to now. I guess, I will get the pre-calulation of
the producer today. So I'm able to calculate the taxes into it and
publish the price by web.
Just a tip beside:
please think of the postal fees. If you meet fans in your region anyway,
it might get cheaper to get the stickers in a collective ordering.
---
NEWS 03/03/2004 The date for your ording is fixed. It will be may, 1st 2004.
While I will publish the costs in the next few days, you nearby have
8 weeks to descide your quantity. I only give you the maximum costs.
If we are getting cheaper due to the quantity, you will get informed.
Because I dont wanna get any profite out of this project, you dont have
to pay more, than it really costs.
---
The following prizes are including an envelope 95mm by 165mm with
air-protection-foil and the postal fees for a weight up to 250 grams.
postal fees (p&p)
maximum 250gr
inner germany
2.50 €
inner europe
5.00 €
outer europe
9.00 €
---
NEWS 02/03/2004 I will get the pre-calculations in about 2 days. I will publish them as
soon as possible. So everyone knows then, what the stickers will cost.
I also will go to the post office to calculate the postal fees to calculate
what I have to pay for sending it to you.
---
NEWS 01/03/2004 I conntacted the producer today. He will get the first design
of the sticker during this week and will make a pre-calculation.
Design for sticker is finished yet. It will be look like this:

---
I also have send an e-mail to the designing company,
asking them for the copyrights.
Here is the response:
fine go for it
D
---
NEWS 27/02/2004 The sticker will be available in "ROYALPLAST ®" within an
aluminium floor and a special plastic cover. A sample will
look like this: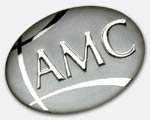 ---
We dont have any Simple Minds mergendising stuff, exapt
some tour-shirts and tour-books. So the idea was, to create
some on our own. Why not creating a sticker for instance?
Well - printeing a sticker in a quantity of 2 or 3 is much
too expensive. So I desided to ask some fan-clubs for
cooperation.
In the following section, you will see the news about this
sticker project, about the layout, the pricing and the quantity.
---
IMPORTANT NOTICE:
This is
NOT
commercial! We only calculate
the production costs and postal fees! There is absultely
NO
profit for anyone, exapt fo the company, who
is instructed to produce the stickers.
COPYRIGHT WARNING:
The Simple Minds logo and the design might be copyright
protected by any designing company. This sticker
is only for private usage and not for sale. I don't take
any responsibilities. It's on your own risk.
---